Breathe New Life into Your Old Hard Wood Floors
You may not need a whole new floor, just some TLC for your current hard wood flooring.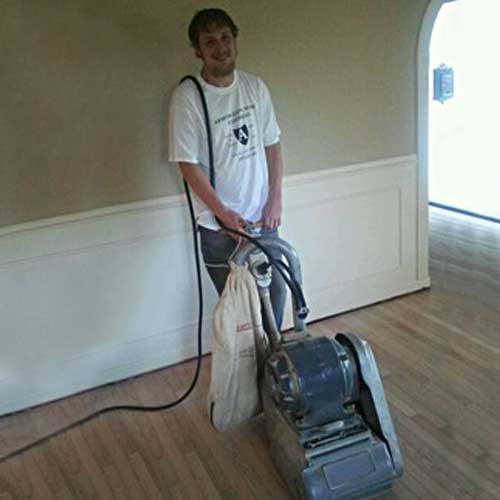 Get Your Shine Back 
Here's How:
Sanding and refinishing your floors is not an easy task to DIY. You need experts and the right equipment to get professional looking results. We use the most up to date equipment available, and offer sanding and refinishing services done by real wood floor craftsmen.
Our 8″ and 12″ drum, European belt sanders, edging and buffing machines are all dynamically balanced and support upgraded vacuum systems. These machines assure meticulous preparation of your wood floor while also maintaining the bare minimum of dust reaching the work and surrounding areas. All our employees are highly trained in the art of refinishing floors, guaranteeing a seamless and quality job for you to admire for a lifetime
The Most Beautiful Wood Floor Finishes
All of our wood floor finish coatings are Commercial Grade. Wood stains are custom blended to virtually any color desired. Top coatings are available in sparkling high-gloss, semi-gloss, satin and also flat sheens. Choose from oil based or environment friendly acrylic water based polyurethanes. Tung oil and wax finishes are also available.
Knowledgeable & Experienced Floor Craftsmen
At Armorglow Wood Floor Refinishing-Installation, when our workers arrive at your house, you can be assured that they are diligent and familiar with your specific needs. Before anyone in our company works on your floor, they will have been thoroughly trained, and perform according to industry standards. Whether the job entails hardwood floor refinishing, or a hardwood floor installation, and/or repairs, it will be performed by a proven skilled craftsman.
After the installation is complete, it's not the end of the job for us. To reduce the need for future repair or refinishing, we offer a maintenance plan that will keep your floor looking as spectacular as the day it was laid in your home. In addition, should damage occur, we can assist you with your insurance claims.
The owner, 'Shelby' Siegel, personally assesses each flooring project. His detailed explanation is presented with a patience and clarity that any homeowner will appreciate. Elements that will be discussed include:
choosing the right material
prep work involved
length of time from start to finish
pricing options
maintenance procedures
He has the eye and experience to suggest what fits your personality and budget.
Armorglow Wood Floor Refinishing-Installation
Contact us today to hear more about our services and pricing.